A New Star Has Arrived in British Horse Racing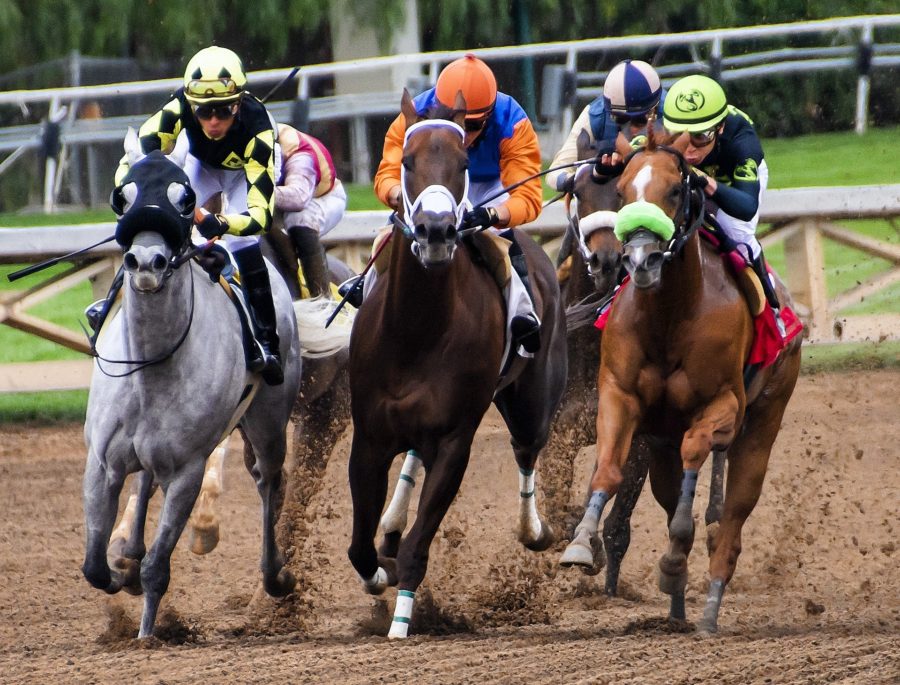 "Epsom Derby Field Heading for Home" by MonkeyWing (CC BY-SA 2.0)
We have witnessed a new star of British racing come to the fore at the start of the 2019 Flat season, and that horse is Sir Dragonet. The horse has gone from being one that no one had heard of before to favourite for the Derby, one of the most prestigious prizes in horse racing, in the space of just a few weeks. The scary thing about it all is that if you believe his trainer, then we haven't seen the best of him yet.
If you take a look at the Derby betting market, Sir Dragonet is at the top listed as favourite with most bookmakers. However, the story behind this horse is a lot bigger than just being the current Derby favourite, it is the story of a horse who has found himself lost at home in the middle of hundreds of horses trained by Aidan O'Brien.
Sir Dragonet never saw the racetrack as a two-year-old and was described as a 'big baby' who needed time by the yard. He didn't make his debut until April of 2019, which is very rare for a top-class horse, but something that this one clearly needed. With the Aidan O'Brien yard full of talented horses, those from his stable are usually sent off at fairly short prices in the betting; however, that was not the case when this horse made his debut.
An SP of 14/1 shows that he was not fancied by many people, and not seen as the next big thing by anyone in the yard; otherwise, word would have somehow reached punters. However, while many discounted him before the race, after his first run he was suddenly on the radar of many people. He won easily that day, coming away from the field to win by a margin of three lengths, but that could easily have been more had it been needed.
The big question was where he would go next, but it didn't take long for us to see him again. O'Brien sent the horse to Chester for a tilt at the Chester Vase, which is seen as a very good Derby trial. The course, in the North West of England, is very tight, and many horses struggle to get to grips with the tight twists and turns, so it is ideal for horses that need some educating. This horse was in that bracket, so this trial was exactly the right one for him.

"Tight Turns at Chester Racecourse" by Rept0n1x (CC BY-SA 3.0)
Beforehand, the race was described as a learning curve for Sir Dragonet by his connections, with them not really knowing what he was capable of, other than that he must be a nice prospect to have won as well as he did at Tipperary. After this race, the mood and their thoughts on the horse had dramatically changed.
Sir Dragonet came away from a nice field, including some Derby hopefuls, to win the Chester Vase by eight lengths, propelling him into the mainstream and also to the top of the Derby betting market, a race that he still hadn't been entered in.
While the victory itself and the winning margin were both highly impressive, the way he travelled through the race and his late burst to take over were the most eye-catching. He was detached at the start, but jockey Donnacha O'Brien was in no rush with him, allowing him to get into a rhythm as the horse clearly showed his inexperience. This was a key moment of the race, and many other jockeys would have attempted to move up into the pack at this stage, forcing the horse to do things quicker than he would have wanted to.
Donnacha didn't do that, and there is no doubt that the horse will have learned a lot thanks to him and the ride he gave. Despite this being just the second run of his career, Sir Dragonet took the preliminaries well, although assuming he goes to Epsom, that will be completely different with a huge crowd in attendance and a pre-race parade to deal with.
The assumption is that the three-year-old will take the logical next step and head to the Derby, something that will cost his owners £85,000, but based on what we have seen recently this could be money very well spent.
Magna Grecia from the same yard won the 2000 Guineas at Newmarket, but the reports after that race suggest he will stick to one mile, and not move up in trip to the Derby. The yard is likely to make a decision surrounding Sir Dragonet after they have seen their other potential Derby candidates run in their respective trials, but it would be a surprise to see any of them come out and be as impressive as this one was at Chester.
Wherever he goes, Sir Dragonet already looks to be a machine, and there is a good chance that we haven't seen the best of him yet. With just two runs under his belt, winning the Derby will be a huge ask, but this horse certainly appears to have the quality to get involved, and the name Sir Dragonet is one for punters to remember.